The artist will gladly accept commissions for works with themes and motifs of your choice. These may be traditional subjects incuding
portraits,
favourite landscapes,
your home, your pets, ...
or tailored to your very personal tastes and requirements for example
paintings after your favourite pieces of music,
paintings about Energising, centring and revitalising your inner self,
design of unusual business cards,
magazine covers.
Upon request, she will execute commissioned work using colours of your choice or preferred technique (oil, acrylics, pastels, crayons, ink, reddle & bistre).
Contact with the artist:

via e-mail (artmanager@kurnig.com)
or telephone (+43 676 41 23 578).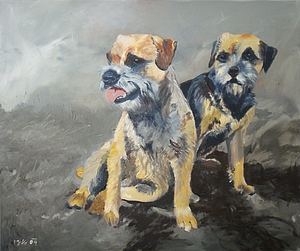 Amy und Angie
50 × 60 cm
oil painting
commissioned work

(Amy and Angie are border terriers.)